Archives by date
You are browsing the site archives by date.
By Denise on May 29, 2013
"Good drawing always goes beyond appearances." Philip Rawson 'Beyond Appearances' brings together a variety of artists ranging from the North West, Edinburgh and London, who put great significance on drawing within their practice. Drawing is used by artists to observe, explore, record and respond to the world around them. It helps to create and define an […]
Posted in At t'mill, News | Tagged exhibition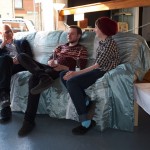 By Denise on May 29, 2013
Conversations, the recent residency by UCLan MA Fine Art Students, saw a steady number  of visitors through our doors, which for the first time were open every day of its duration. Many of those who visited had never been to Oxheys before, some not even knowing we existed, so opening up a brand new audience […]
By Denise on May 9, 2013
Conversations is a working residency by Jane Bennett, Steph Fletcher, Rob Smith, Nuala Riding, Natalie Morgan and Evelyn Rose, a group of emerging artists who are in the completion stage of their Fine Art: Site and Archive MA at the University of Central Lancashire in Preston. The works on show are exploring the ephemeral nature […]
By Denise on May 5, 2013
Presented by six  artists on the UCLan MA Fine Art: Site & Archive course Open  Six days a week for two weeks Mon-Sat 11am-4pm from May 6th-May 18th 2013 Private View with the Swinging Never-Beans  jazz  combo: Thursday 16th May 6-8pm A unique opportunity to explore the evolution of six very different  MA projects on […]
Posted in At t'mill, Events, News | Tagged exhibition, residency
Where are we?
We are now peripatetic and have no fixed abode. We'll pop-up where you least expect to see us!