Archives by date
You are browsing the site archives by date.
By Denise on March 30, 2016
March has indeed been marching on – we started the month with the Making Histories Visible IWD Family Album show which opened on the 8th and ran for just a few days but was a great success and very popular. This was quickly followed by another short-run show, this time from photography BA students from Myerscough college in Preston. We are […]
Posted in At t'mill, News | Tagged exhibition, opening, photography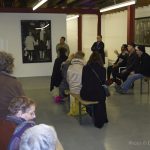 By Denise on March 9, 2016
We are very pleased that this lovely exhibition has been extended by two extra days but must close on Thursday 10th March at 3pm. Family Album features photographic work made in the late 1980's and early 1990's by Maud Sulter and Jeanne Moutoussamy Ashe. Curated by international artist Lubaina Himid, Professor of Contemporary Art at UClan, who along […]
Posted in At t'mill, News | Tagged exhibition
Where are we?
We are now peripatetic and have no fixed abode. We'll pop-up where you least expect to see us!