Archives by date
You are browsing the site archives by date.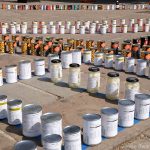 By Denise on March 1, 2019
Preston City Council were so pleased with the event we staged last year that they invited us back again, so we decided to go bigger and better than before! The cogs have been turning and we've come up with what we think are some really exciting plans for this years' Making a Mark day in […]
Posted in Making A Mark, News | Tagged makingamark | Leave a response
Where are we?
We are now peripatetic and have no fixed abode. We'll pop-up where you least expect to see us!