Archives by date
You are browsing the site archives by date.
By Denise on January 28, 2020
Come and join in the fun on Saturday February 22nd to celebrate Mardi Gras with a parade through Preston city centre, down to Avenham Park. Led by Worldwise Samba Drummers, the parade is open to anyone to join in and wearing of costumes is encouraged. Musicians, dancers and performers – you are all invited to […]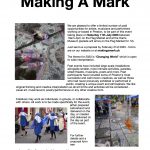 By Denise on January 20, 2020
We were excited to hear our Arts Council bid for 2020 had been successful as this meant our ideas for expanding Making A Mark could be realised. This will be our 4th Making A Mark so we wanted to both extend and expand it's reach whilst enabling more of Preston's artists and creatives to be […]
Posted in Making A Mark, News | Tagged makingamark | 2 Responses
Where are we?
We are now peripatetic and have no fixed abode. We'll pop-up where you least expect to see us!