Archives by date
You are browsing the site archives by date.
By Denise on May 29, 2012
Proving to be one of the most thought-provoking shows we have had at Oxheys to date, Susan Walsh's Satellite Navigation exhibition continues to draw in visitors who are keen to add their own lists to those already on display, on three walls around the project space. The lists make fascinating reading. Many people have offered […]
Posted in Events | Tagged exhibition
By Denise on May 28, 2012
Oxheys artists, Simon Plum, Julie Saul and Denise Swanson, are exhibiting in the Printessentials exhibition which opened at the Coach House Gallery at Astley Hall in Chorley on Saturday 26th May. On until the 17th June, this exhibition, including work from over 20 local artists, is run by ArtLab Contemporary Print Studios in Preston, part of UCLan. […]
Posted in At t'mill, Events, News | Tagged artists, exhibition
By Denise on May 15, 2012
Join us for this event. The workshop will take as its starting point Susan Walsh's current exhibition at Oxheys, Satellite Navigation, which explores the idea of 'Life in Transit' and asks, 'If you had to leave, what would YOU take with you?' As well as responding to the exhibition, we'll look at wider concepts of […]
Posted in At t'mill, Events, News | Tagged exhibition, workshop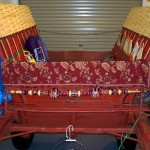 By Denise on May 11, 2012
The opening of this latest exhibition took place on May 3rd, attracting a number of visitors many of whom had followed the journey of the cart through the streets of Preston the Sunday previously and who had come to see it in situ along with the rest of the show. Many visitors had not been […]
Posted in At t'mill, News | Tagged exhibition, opening
Where are we?
We are now peripatetic and have no fixed abode. We'll pop-up where you least expect to see us!