Archives by date
You are browsing the site archives by date.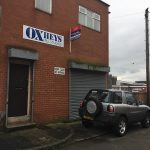 By Denise on March 10, 2017
Today we said a fond goodbye to our old mill as we moved the last of our belongings out and took the final runs to the tip and  local charity shops. It has been quite an eventful 6 years – 27 resident artists 111 local artists exhibited 37 exhibitions, including 9 open 17 collaborations with […]
Where are we?
We are now peripatetic and have no fixed abode. We'll pop-up where you least expect to see us!