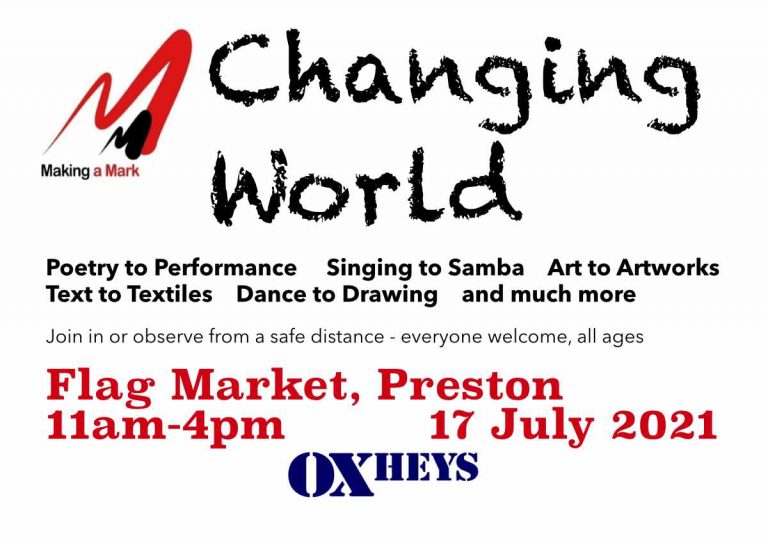 After months of uncertainty due to the various changing coronavirus restrictions, we are excited to confirm that Making A Mark will definitely be taking place this year on the Flag Market in Preston City Centre on Saturday July 17th 2021 11am til 4pm. Whilst some restrictions are still in place, after close discussion with Preston City Council it was felt that, providing everyone exercises common sense and respect for others and providing certain considerations were taken into account that the event could still take place.
Still entitled "Changing World" it couldn't be more relevant – our world has certainly changed in the time since this event was first planned and sadly, not all of the activities originally planned can go ahead and not all of the artists who were originally booked are able to take part. However, artists are nothing if not creative so some whose original plans couldn't go ahead due to the restrictions, have rethought and replanned their activities so that they can still be part of it. Those who sadly have been unable to do so will hopefully be able to join with us for a future event.
So who is taking part? Most of the Oxheys core team will be there, running the event alongside a variety of activities, performances and installations such as:
Caroline Finnigan & Evelyn Rose – based in Engagement area, welcoming visitors
Tim Saunders – following on from last years' trees installation, looking at carbon emissions in a changing world
Denise Swanson – recording the days' activities through photography, alongside project management activities
Bernie Velvick, ArtFull – various arts and crafts activities taking place under a parasol
Also confirmed taking part are many of those originally included such as:
Worldwise Samba Drummers – performance on the Flag Market, leading the parade and performing on the Harris balcony. Everyone welcome to join the parade
Life Drawing – in collaboration with the Harris, live model sessions will run from 1.30-3.30pm, paper & pencils provided so anyone can join in
Winston Plowes – delivering Word Lab, an interactive poetry installation with audience participation
Paul O'Hara – a large-scale installation with a car and caravan, to show patterns in a changing world
Hodge Podge – an interactive dance and sound performance to show how audience decisions affect outcomes
Female Creative (Vowels & Berry) – hydro acoustic soundscapes within a 'forest' of trees to change your world
Janine Walker – using a large globe sculpture with which visitors can make their mark to create a changing world
Krissi Musiol – join in a performance audio walk, highlighting a changing world for motherhood
Martin Hamblen – performance measuring visual acuity, making a mark through Alamogordo
Jade/Roxanne – performing monologues and interacting with visitors to reflect a changing world
Garry Cook – interacting with visitors, produce messages about changing worlds, creating an installation
Daveid Darbyshire – a visual arts workshop on recycling, reflecting on changing the world one step at a time
Lynn Shaw – interacting with visitors to create visual art collages of changing worlds as postcards
Helena Ayscough – spoken word performance, dressed as a gothic moth, to discuss nature in a changing world
Lucy Silvester – using textiles to illustrate how feminism has evolved in a changing world
This should ensure a fantastic day out for all the family. We do hope you'll join us. There will be a BSL Interpreter based in the Engagement are available for assistance.
Several of the artists are also running their workshops online or with small community groups, either before or after the event as well, so do keep an eye out for those.
Social distancing measures will of course be observed throughout the event to ensure it complies with current restrictions. No visitors will be approached or expected to join in or participate in any activity unless they feel comfortable doing so. Numbers of visitors will be monitored as far as possible and space allowed to ensure everyone attending feels comfortable. We just ask that everyone use common sense so a fun day out can be enjoyed by all.
Updated 15/07/2021
Join our mailing list to keep informed of future activities