Browse:
Home
/
life drawing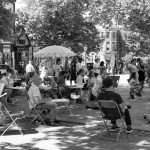 By Denise on August 18, 2021
At the recent Making A Mark event on Preston Flag Market, we asked visitors to leave their feedback and to vote for their favourite artistic activity or installation. We had an amazing response, with lots of very positive feedback so huge thanks to everyone who filled in and left their feedback forms. Over 98% of […]
Posted in Making A Mark, News | Tagged life drawing, makingamark
By Denise on November 27, 2019
The past few months have been somewhat busy so apologies for the lack of recent updates. After the success of this year's event we wanted to ensure that Making A Mark in 2020 could be bigger and better than ever, so almost as soon as this year's was complete we started planning ahead for next. […]
Posted in News | Tagged activities, events, funding, life drawing
By Denise on November 2, 2018
We are very pleased to announce that we have been invited by the Harris Museum & Gallery in Preston city centre to continue working with them running a series of Life Drawing sessions. A professional model offers a variety of short and long poses. The last session for 2018 is on 24th November so if you'd […]
Posted in Events, News | Tagged Harris Museum, life drawing, workshop
Where are we?
We are now peripatetic and have no fixed abode. We'll pop-up where you least expect to see us!