Browse:
Home
/
mardi gras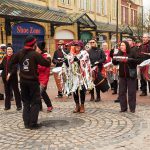 By Denise on February 27, 2020
Saturday 22nd February 2020 – after a week of torrential rain which flooded Avenham Park and surrounding area, we were uncertain it would go ahead but on the day the rain finally let up and the very first Preston Mardi Gras parade took place. Huge thanks to all of the members of Worldwise Samba Drummers […]
Posted in News | Tagged avenham, mardi gras, parade, samba
Where are we?
We are now peripatetic and have no fixed abode. We'll pop-up where you least expect to see us!