Each artist chose the spaces they wanted for their own studios and luckily, there were no arguments as everyone wanted a different space for different purposes. Joe chose the basement and set about building a partition wall to create a self-contained unit. Simon chose the first floor where he could create a green screen room for his film-making whilst Lisa also the chose the first floor for an open plan space for her installation work and Denise chose the space at the rear of the gallery area on the ground floor, to create an open studio space.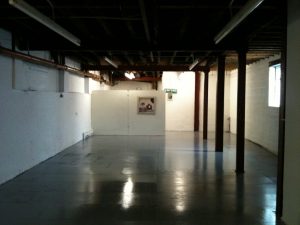 Partitioning these spaces was going to be tricky especially since we are funding this project out of our own pockets but thanks to local shopfitters on Brook Street, we acquired a number of partition panels which they delivered into our loading bay. Just as well, as these panels weigh a ton and each took several pairs of hands to move. Some were set up at the rear of the gallery space for Denise's studio whilst others were used upstairs to divide Lisa's and Simon's spaces. In clearing out the rubbish from the loading bay we found a number of old doors, palettes, rafters and various other items we could make use of in various ways. At last, each artist could start setting up their own studios.
There are still many jobs to do and work will continue over the coming months as time and funds allow but we feel we have made great progress with the time and budget we had.
We hope you will join our mailing list and/or follow us on Twitter to follow our progress over the coming weeks as the studios open and we hold our first exhibition in the gallery space.