Archives by date
You are browsing the site archives by date.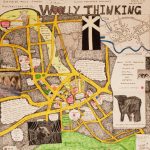 By Denise on November 21, 2016
The collaborative project Woolly Thinking was a great opportunity for all the resident artists at Oxheys to get involved in one project. Each artist has their own set of interests and skills to bring to a project like this so it was the perfect opportunity for everyone to muck in, do what they wanted to do […]
Posted in At t'mill, News | Tagged artists, exhibition, woolly thinking
By Denise on November 8, 2016
Yes, it's that time again – winter is upon us and it's time to get your submissions ready for this always popular open exhibition. We are accepting submissions between 12-3pm on Friday 18th, Saturday 19th and Sunday 20th November. It will also be the final chance to see the Feast Wagons show so if you've not yet visited […]
Posted in Events | Tagged exhibition, submissions
Where are we?
We are now peripatetic and have no fixed abode. We'll pop-up where you least expect to see us!