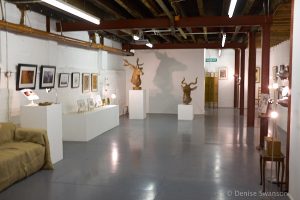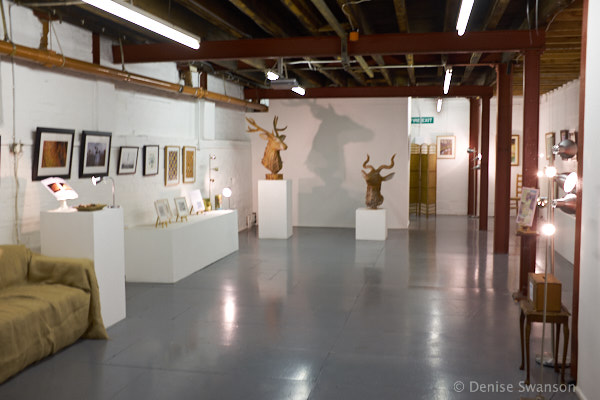 Our winter exhibition was once again, a great success. Always a popular event, we had a fantastic response to our call for work, with many artists who have previously shown with us coming back with new pieces for this show – some they had made especially. It is always exciting to see the entries coming in and then to try and put on an exhibition everyone can enjoy and where every piece can be seen at its best.
The interpretation of winter was, as always, fascinating – from a life-size sculpture of a stag's head wrapped in autumnal bronze fabric, to gorgeous watercolours and pastels depicting the sombre tones of winter, to a pagan-influenced installation, conceptual pieces, drawings and photographs of the natural world, there truly was something for everyone.
And enjoy they did – the show opened on the 24th November with one of the busiest preview evenings we've ever seen! It was truly a pleasure to see so many of our old friends back and to be able to show off such delightful artwork. We were also joined by some members of Preston Poets Society who treated us to some poetry readings of works about art and artists, which enriched the evening – as did the mulled wine and mince pies!
Many visitors made purchases of hand-made cards, zines, prints, hand-made hats and jewellery and small artworks – this is always a good opportunity for finding unusual and unique gifts from family and friends.
Our thanks to all of the artists who put work into the exhibition and to the poets for taking part in the preview evening. Our thanks also to everyone that came to the preview and who visited whilst the exhibition was on – we hope you enjoyed the show as much we enjoyed hosting it. Judging by the comments in our visitors book, it seems everyone did enjoy it.
Finally, we wish everyone a belated very Happy New Year and hope to see many of you during 2017.
With apologies for the late post due to a very busy start to the year. The show has now closed. Most of the artworks have now been collected but please note we do close during February each year so if anyone still hasn't collected, please contact us to arrange a time.