Browse:
Home
/
city centre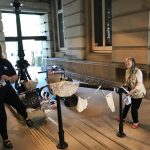 By Denise on June 5, 2017
Saturday June 3rd was a fantastic day on the Flag Market and inside the Harris Museum – hundreds of people came to see us and to join in the Making A Mark activities – a huge thank you to everyone that came, who brought their children and parents along and took part. Huge thanks also to […]
Posted in Events, Making A Mark, News | Tagged artists, city centre, collaboration, Harris Museum, makingamark
Where are we?
We are now peripatetic and have no fixed abode. We'll pop-up where you least expect to see us!