Browse:
Home
/
performances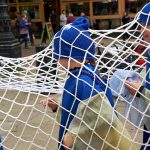 By Denise on June 19, 2019
What a day on Saturday 15th June, the day for Making A Mark in Preston. The change in weather forecast meant a few last minute changes were needed as the Flag Market can be a little exposed, so we tried to ensure that all those taking part had at least somewhere to shelter if necessary. […]
Posted in Events, Making A Mark, News | Tagged collaboration, makingamark, music, performances, plastics, poetry, visual art
Where are we?
We are now peripatetic and have no fixed abode. We'll pop-up where you least expect to see us!