Archives by date
You are browsing the site archives by date.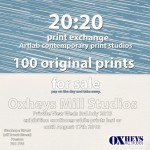 By Denise on August 19, 2013
The 20:20 print exchange was an experiment to see whether this type of format for a show would work. We were not really sure if it would work but thought it was worth a try – after all, nothing ventured and all that. The show closed on Saturday and with only a handful of prints […]
Posted in At t'mill, News | Tagged exhibition, fundraising, news | Leave a response
By Denise on August 1, 2013
Its been a busy few weeks of discussions and preparations for the forthcoming Open exhibition by Lancashire Artists Network, which we are proudly hosting for the second year. Opening on August 22nd with a Private View from 6-8pm, this years' exhibition is promising to be even bigger and better than the last, from which we […]
Posted in At t'mill, News | Tagged art, exhibition, preview, submissions | Leave a response
Where are we?
We are now peripatetic and have no fixed abode. We'll pop-up where you least expect to see us!