Browse:
Home
/
fundraising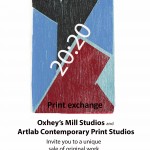 By Denise on April 15, 2014
Back by popular demand for 2014 is another 20:20 print sale. This proved so popular last year, with people literally queuing up on opening night to buy prints so make sure you don't miss out miss this year. Get there early for the pick of the crop as we only have one copy of many […]
Posted in Events, News | Tagged exhibition, fundraising, opening, preview
By Denise on October 16, 2013
Join us for a fabulous evening of art and live music,  including the infamous Danse Macabre, played by renowned local musician Tom Woolsgrove, whilst enjoying the spiritual experience of the Signatus art installation, on Friday 25th October between 6-8pm in recognition of the ancient All Hallow's festival and in support of World Mental Health Day, admission free. Danse Macabre […]
Posted in Events | Tagged art, fundraising, music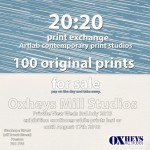 By Denise on August 19, 2013
The 20:20 print exchange was an experiment to see whether this type of format for a show would work. We were not really sure if it would work but thought it was worth a try – after all, nothing ventured and all that. The show closed on Saturday and with only a handful of prints […]
Posted in At t'mill, News | Tagged exhibition, fundraising, news
Where are we?
We are now peripatetic and have no fixed abode. We'll pop-up where you least expect to see us!