The LAN Open exhibition for 2013 closes on Saturday 21st September so if you have not yet had a chance to visit, do come along. It has been a fantastic show, with a real diverse selection of work and the feedback, both from participating artists and from visitors,  has been really encouraging. The Preview event was packed – a really busy night with a high turnout of visitors and after the first 10 minutes, no chance to take any photos!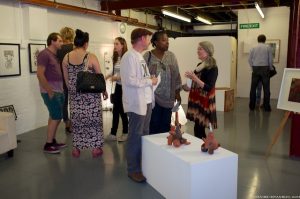 Comments in our Visitors Book show that it was well received. People commented on how professional the show looked, on the quality of the artwork and on the sympathetic curation. Comments such as 'a classy show', 'good enough for Manchester or London' and 'what a show – very professionally staged' made all the hard work installing and curating worthwhile.
Several pieces sold within the first few days of the show opening and there has been a steady flow of visitors each day since it opened, with the positive feedback continuing so we are really pleased with the outcome.
A full list of the works included, with details of prices, is available at Oxheys and also at Korova where additional work is in display.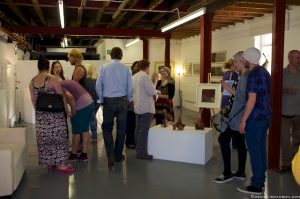 There are many thought-provoking responses to the optional 'protest' theme, which really gave the show an edge and a nucleus. The stars of the show included 'Hare' by sculptor David Sinnott and 'Mantis' by Rebecca Barwell but many of the other works warrant mention especially  Shan Murrell's collage prints, 'Albino Peacock', Tracy Hill's prints, Stan Cropper's watercolours, 'Orchid Girls' and many others.
You will just have to come and look for yourselves if you haven't yet been. More work is displayed in the upstairs meeting room and also in Korova Arts Cafe, who also provided the catering and pop-up bar for the private view event.
Several pieces have sold and will be available for buyers to collect next Saturday 21st. Artists can collect their work on Sunday 22nd September.
If you are an artist based in Lancashire and want to find out more about LAN visit lanarts.org
These photos were taken as the first guests arrived