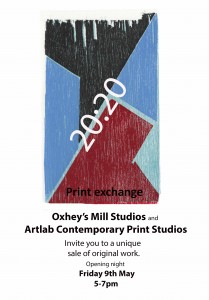 Back by popular demand for 2014 is another 20:20 print sale. This proved so popular last year, with people literally queuing up on opening night to buy prints so make sure you don't miss out miss this year. Get there early for the pick of the crop as we only have one copy of many of the prints.
Organised with our friends at ArtLab Contemporary Print Studios at UCLan, this is a fantastic fundraiser event as all the proceeds go to ArtLab and Oxheys, which in turn go towards helping local artists find ways of developing and showing their work.
Do join us between 5-7.30pm on Friday May 9th for the special preview evening. Grab yourself some lovely prints at the bargain price of just £10 each and remember, when they're gone, they're gone so you only have one chance!
See on display, pay and take away on the day!
Last year almost all the prints sold. Whilst prints remain, the exhibition will run until 31st May,  open Fridays and Saturdays 12-3pm.