Archives by date
You are browsing the site archives by date.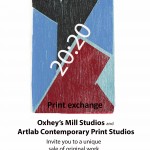 By Denise on April 15, 2014
Back by popular demand for 2014 is another 20:20 print sale. This proved so popular last year, with people literally queuing up on opening night to buy prints so make sure you don't miss out miss this year. Get there early for the pick of the crop as we only have one copy of many […]
Posted in Events, News | Tagged exhibition, fundraising, opening, preview | Leave a response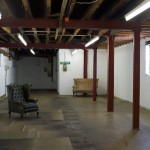 By Denise on April 12, 2014
Seems hard to believe but it was exactly 3 years ago this weekend that this website was started, when Denise, Joe and Lisa collected the keys for the old factory mill on Stanhope Street that was to become Oxheys Mill Studios and started the collective. Armed with mops and buckets, a kettle, copious supplies of […]
Posted in At t'mill, News | Tagged news, progress, studios | Leave a response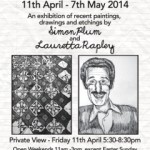 By Denise on April 4, 2014
Between the Lines is an exhibition of recent paintings, drawings and etchings by Oxheys' resident artists Lauretta Rapley and Simon Plum, opening Friday April 11th 5.30-8pm., all welcome. The exhibition is then open 11-3 Saturdays and Sundays (except Easter Sunday) until May 7th.
Posted in Events | Tagged artists, exhibition, gallery, opening | Leave a response
Where are we?
We are now peripatetic and have no fixed abode. We'll pop-up where you least expect to see us!