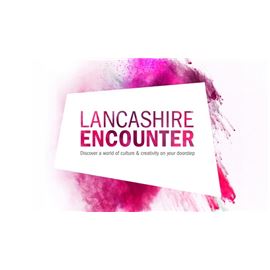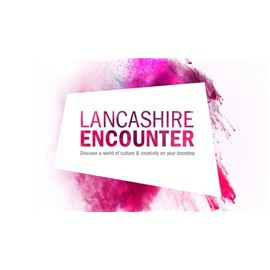 We are excited to reveal the details of our secret location in Preston city centre for the Lancashire Encounter Festival next weekend, 25-27 September.
On Saturday 26th and Sunday 27th we will be right in the heart of the activity –  our friends at the Harris Museum & Art Gallery are allowing us to invade their cafe area with a pop-up exhibition along with some small artist-made items to buy. Chelytherium will be with us on a weekend residency playing live and our friends from Making Histories Visible  will be there with details on all their upcoming projects. Do call in for a brew and a cake, enjoy the gallery and the art then come and see us, see the locally made art and enjoy the music.
Alongside our presence in the Harris, we will be running an Open Studio weekend at Oxheys Mill Studios on Stanhope Street – everyone is welcome to come and visit, take a look around our old mill, see artwork being made and talk to artists as they work in their studios. There may even be other activities going on you can watch or join in with.
We extended the Lancashire Artists Network 2015 Open exhibition to be part of the festival so if you've not yet visited, this is the perfect opportunity to drop in and see the fabulous work on show from Lancashire-based artists as part of the Lancashire Encounter. The exhibition has had really positive feedback with some original work, most of which is for sale and at affordable prices.
The pop-up exhibition in the Harris will feature work from resident artists which will also be available to buy at affordable prices along with a selection of artisan cards and small items.
Help us celebrate our 4th birthday in style – join us in the Harris and then come and see how we turned this old factory mill into a creative art space and studios.
Oxheys isn't far from the centre of Preston – it's just 10 minutes walk from UCLan, which is just 10 minutes walk from the Harris. The number 31 bus stops right outside on Brook Street and there is car parking nearby.
We will be open at Oxheys on Friday, Saturday and Sunday from 12-3pm with Chelytherium playing live on Friday in the mill
On Saturday and Sunday we will also be at the Harris, with Chelytherium, from 10-5pm
We look forward to welcoming you. Please tell your friends!