Archives by date
You are browsing the site archives by date.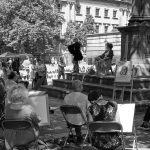 By Denise on June 20, 2022
Join us on July 23rd for Making A Mark 2022 from 12-4pm* on Preston Flag Market. Building on the success of last years' event, this year everyone attending is invited to join in with artists, with opportunities to create music, drawing, poetry, writing, painting, crafting, drumming – your choice. The theme this year is Immaterial […]
Posted in Events, Making A Mark, News | Tagged makingamark, news | Leave a response
Where are we?
We are now peripatetic and have no fixed abode. We'll pop-up where you least expect to see us!