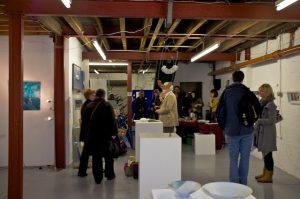 The Private View for our Winter Exhibition turned out to be a great evening – our sincere thanks to everyone who came and helped make our first Christmas at the mill such a success. Our thanks also to all of the artists who braved the dreadful weather conditions and submitted work for the Winter exhibition – you made it a great show and according to some, our best yet!!
Most of the work in the Winter exhibition is available to buy and it wasn't long after the first guests arrived that the first sale was made, marking a very special occasion.
The Private View and Christmas party was a fantastic evening with lots of friends, artist and their guests came and enjoyed some mulled wine with Hannah's home-made mince pies and Lisa's home-made winter cake whilst wandering around the show to see the fabulous work and our lovely Winter tree. The exhibition is on until 29th January so there is still time to make a visit (although we are closed for Christmas/New Year).
The idea for this show was for an exhibition of work which offered interpretations on winter – either the look, feel, mood or some other way of thinking about the experience of winter. What a variety of interpretations we had, which made a fabulous show with some thought-provoking work from wintery landscape paintings and photographs, abstract prints to conceptual ideas, pen and ink drawings to watercolours, collages to prints and ceramic bowls, ceramic gingerbread men for the winter tree to some intriguing teabags to mark the passing of time, suggesting the end of one year and the start of another.
If you are a local artist and are interested in taking part in future exhibitions or applying for a residency, do join our mailing list to be kept informed of events. If you enjoy art and want to support local artists by receiving an invitation to the previews or visiting the exhibitions, please join the list.
More pictures and updates on Facebook