Archives by date
You are browsing the site archives by date.
By Denise on May 26, 2015
After the success of the last Lancashire Artists Network Open exhibition in 2013 and Oxheys Summer Open in 2014, it seemed a good idea to join forces and collaborate on one for 2015. All local and Lancashire-based artists are welcome to submit work and everyone is invited to attend. Full details Summer 2015 Open – submissions with terms […]
Posted in At t'mill, News | Tagged art, exhibition, submissions
By Denise on May 26, 2015
Not just one group of students but two – this time we were approached by a group of third year filmmaking UCLAN students, needing somewhere to build a couple of sets and make a film. Quite a lot of space was needed and even our project space could not easily accommodate that. As it happened […]
Posted in At t'mill, News | Tagged artists, residency, students, studios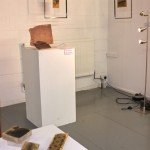 By Denise on May 26, 2015
When we were approached by a group of final year photography students who were looking for a venue for their first exhibition, we were happy to agree. The students approached us in a professional manner, had some good ideas for a theme for their show and were clearly enthusiastic – not just about their opportunity […]
Posted in At t'mill, News | Tagged exhibition, students
By Denise on February 11, 2015
This exhibition is an exploration into various experimental techniques and different means of presenting  work under the theme of 'Experimental in Nature'. Through this exploration, a few have branched out into working with film. Those working with film, focus on the photograph as a physical object and so have looked into different ways of printing and […]
Posted in Events | Tagged artists, exhibition
By Denise on January 19, 2015
After the hectic pre-Christmas Winter schedule of exhibition and workshops,  resident artists are making the most of this quiet time of the year to spend time working in their own studios, making art with time to think and expand ideas. That is why we have the studios, after all. Organising exhibitions and other events is enjoyable but it is […]
Where are we?
We are now peripatetic and have no fixed abode. We'll pop-up where you least expect to see us!