Making A Mark
Held each year on the Flag Market in Preston city centre, in June. A celebration of the art and creativity of artists working locally to encourage visitors to try things out, be creative and just 'have a go'. Visual art, textiles, sculpture, installation, music, poetry, theatre – there really is something for everyone.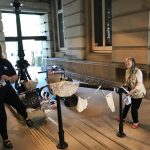 By Denise on June 5, 2017
Saturday June 3rd was a fantastic day on the Flag Market and inside the Harris Museum – hundreds of people came to see us and to join in the Making A Mark activities – a huge thank you to everyone that came, who brought their children and parents along and took part. Huge thanks also to […]
Posted in Events, Making A Mark, News | Tagged artists, city centre, collaboration, Harris Museum | Leave a response
By Denise on May 17, 2017
We may have been quiet over the past few weeks as our artists settle in to new studio spaces and get things sorted out but we have been busy planning our next event. Several of us (Denise, Caroline, Robin, Evelyn and Gordon) will be working with Preston City Council and the Harris, along with our friends, artists […]
Posted in Making A Mark, News | Leave a response
Where are we?
We are now peripatetic and have no fixed abode. We'll pop-up where you least expect to see us!