Browse:
Home
/
lancs encounter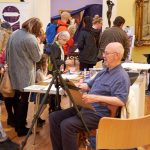 By Denise on September 26, 2018
[tribulant_slideshow gallery_id="4″] Wow – what an event! The Art Jam on Saturday, at the Harris Museum in Preston was amazing – so many visitors, at times it was difficult to move around. At its busiest, we had around 20 visual artists working on easels, another 6 or 7 sat on chairs with sketch pads, several […]
Posted in Events, News | Tagged art, Art Jam, artists, collaboration, gallery, Harris Museum, Lancashire Encounter, lancs encounter, music, performance, visual art
By Denise on July 4, 2018
Lancashire-based artists, we need your help. Oxheys has been commissioned by the Harris Museum and Preston City Council to create a large-scale arts map of Lancashire for Lancashire Encounter 21-23 September 2018. The aim is to show how much creativity there is in Lancashire, its diversity and how it is interlinked. So if you are […]
Posted in News | Tagged art, artists, collaboration, Harris Museum, lancs encounter, music, painting, performance, photography, poetry, printmaking, sound, visual art | 5 Responses
Where are we?
We are now peripatetic and have no fixed abode. We'll pop-up where you least expect to see us!